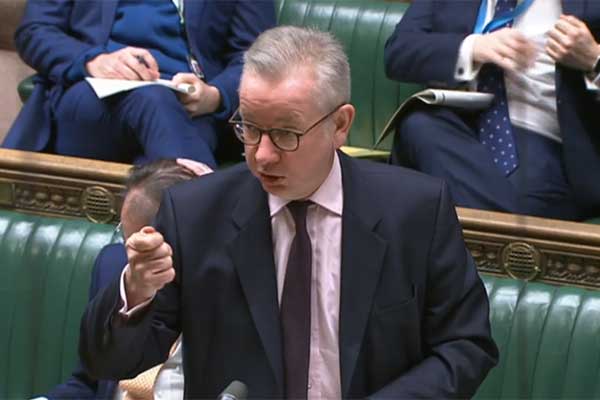 Inside Housing – Insight – Gove's building security plan: the full summary of what he will say in his speech
Remove the consolidated advisory note and adopt a more proportional approach
When the Consolidated Advice Note was first published in January 2020, no one would have predicted the chaos this would cause in the flat-bottom market.
The government's guidance document stated that all buildings, regardless of their height, should be checked and that if hazardous materials were found, they should be removed.
With that in place, lenders used it to assess which buildings needed Exterior Wall System (EWS) forms. The result was that the majority of buildings, regardless of their height, required checks, leaving tenants unable to sell while waiting for one. This has caused the market for the sale of apartments to come to a virtual standstill and a great trauma for the residents.
Naturally, there has been pressure over the past two years for the Consolidated Opinion Note to be amended.
Despite repeated promises by the government over the past six months, it is only today that this seems to be happening.
According to the speech, the advice note will be removed and the government will instead advise assessors to follow new guidelines developed by the British Standards Institute, called PAS 9980.
The catchy-named new guidance document will be used by fire risk assessors to conduct regulatory assessments of exterior block walls under the new fire safety bill. It will take a more risk-based approach to danger, and it is hoped that it will be more proportional and reduce the number of corrective actions required.
However, there have already been some cases where the PAS 9980 standards have been used on blocks less than 18 meters high.
In these cases, the evaluators concluded that an expensive restoration is necessary. One of those blocks is Oyster Court in south London where, despite the use of PAS 9980, it has always been concluded that remedial action is needed which could cost residents £ 80,000.
It is also hoped that the removal of the advisory note will soften lenders' approach to SAP forms.
In July, former housing secretary Robert Jenrick announced that banks should no longer request SAP forms on buildings shorter than 18 meters. It came after research by its experts suggested there was no systemic risk of fire in these blocks.
However, many banks have not moved since saying they would only consider changing their approach after the advisory note is removed.
So now that it's happened, will they change their approach?
Well, not necessarily. Many banks also had a second condition at the time, which stated that they should also see the Royal Institution of Chartered Surveyors (RICS) change its guidelines for EWS checks on buildings under 18 meters, before reconsidering their decision.
Before Christmas, after a four-month consultation, RICS revealed it would reject the government's appeals and maintain its current directions. Current guidelines state that there are only certain types of boulders under 18 meters that do not require checks.
But don't expect Mr. Gove to go without a fight about it. In his speech, he will declare that he will take the power to review the governance of the RICS and "ensure that it is equipped to support a solution to this challenge".
He will go on to say that those in the industry who refuse to work for a more proportionate approach "should be clear about our determination to achieve positive results for those caught up in this problem."
Do whatever you want with it.