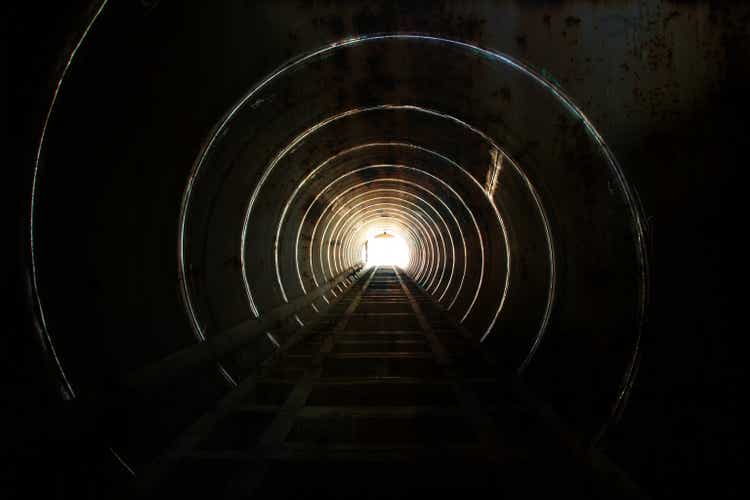 Energy Transfer Stock: Light at the End of the Tunnel (NYSE: ET)
Energy Transfer (ET) has burned investors over and over again over the years.
From overleveraged and overpriced acquisitions, to risky and ultimately reckless and costly growth projects, to poor contract renewal performance, to legal and political battles with environmentalists, politicians and regulators, it all ultimately led to ROI that lagged far behind its peers, poor total return performance and a 50% payout discount in 2020.
Since then, the management has been licking its wounds and devoting its cash to repaying the debt as quickly as possible. As a result, he's finally found a firmer footing and seems to be turning a corner. In fact, management recently announced a 14.8% increase in distribution and – based on our conversation with management earlier this year – we said we believe distribution growth has only just begun. .
Now, in its fourth quarter earnings release and earnings call, management said getting the distribution back to the pre-cut annualized level of $1.22 was a top priority, which is probably the best news that I have heard for a long time from them.
As we finally see a light at the end of the tunnel, in this article we'll dive deeper into the fourth quarter numbers, the guidance for fiscal year 2022, and finally update our investment thesis.
ET Stock Fourth Quarter/Fiscal Year 2021 Figures
ET saw significant (24% year-over-year) growth in EBITDA for fiscal 2021, with the final tally of over $13 billion, an all-time high for the company. Although much of this came from the Uri winter storm, there was still significant year-over-year growth, with fourth quarter EBITDA up 8.5% year-on-year on the other.
Distributable cash flow also remained very strong. Especially with falling CapEx and interest charges. DCF was up 43% for the full year and 17.5% year over year in the fourth quarter.
Perhaps more importantly, the company applied nearly all of its $6.4 billion in excess cash flow after FY2021 distributions to $6.3 billion in debt reduction to long term. This has bolstered their investment grade credit rating and positioned them to begin increasing distribution in 2022, which they have already begun to do.
ET Stock Fiscal Year 2022 Guidance
Management's median full-year 2022 EBITDA forecast of $12 billion would still be a record high heading into 2021 and is up 7.1% from the previous record high in 2019.
For a company that has been lambasted by critics and suffered so many blows from COVID-19, global energy crises, ESG, legal and regulatory battles, and difficult contract renewal trends, this is actually quite impressive. Granted, ET has retained a lot of cash flow over this time and funneled it back into the business, so the returns on investment still aren't great, but given the amount of cash they have also paid out via distributions over this period, EBITDA growth at this rate is still quite solid.
Beyond 2022, analysts expect EBITDA to remain nearly flat through 2026, as capital expenditures are expected to decline significantly as major projects come online and contracts are renewed. will continue to weigh slightly on organic cash flow. This will be offset by continued growth investments, inflationary tailwinds and operational improvements as per management's statement on the last conference call:
we are in the process of identifying and evaluating a number of commercial and operational synergies that should improve the operational capabilities of our systems by capitalizing on improved efficiency and increasing the utilization and profitability of our assets combined.
Meanwhile, management plans to "strategically allocate" its large excess cash flow in 2022 to paying down debt as it matures (as well as some likely refinancing activities as well) to continue to deleverage. balance sheet, invest in high-return growth projects and return capital to unitholders.
The company's top priority, alongside growth investments and deleveraging, is expanding distribution, and it said it would assess further upside "on a quarterly basis."
ET Stock's Updated Investment Thesis
Our investment thesis – that ET would unlock substantial value for unitholders by successfully deleveraging its balance sheet and then increasing its distribution – is playing out very well. The company took a big leap forward in 2021 thanks in part to the Uri winter storm, which allowed it to pay off much of its debt. Now that its growth plans are in line, its EBITDA has more than recovered from the headwinds of COVID-19, combining with debt reduction to form a powerful one-two deleveraging hit.
As management continues to pay down debt, this part of the investment thesis seems like a virtual lock-in to successfully accomplish. Our lingering question was about the pace of further distribution increases, and that concern also seems set to be allayed, as management has made it a top priority to get it back to its pre-cut levels:
Future distribution level increases will be assessed quarterly with the ultimate goal of returning distributions to the previous level of $0.305 per quarter or $1.22 on an annualized basis while balancing our leverage target, growth opportunities and unit buybacks…at least the $1.22 that we've been talking about — that we had before, before we cut distributions, which has moved to a top priority, but we clearly have these big plans that we're talking, likewise, these capital projects, and then you mix up debt repayment the same way. Unit buybacks I would probably put as behind these 3.
While some investors might be disappointed with the deprioritization of unit buybacks as units languish at low levels, as we discussed in our article "3 Reasons Energy Transfer Should Forgo Buybacks and Rise distribution instead", we are glad to see that management is prioritizing distributions instead.
Management said it is prioritizing growth projects over buyouts:
based on what you look at from a DCF per share perspective, that's how we really look at it, probably not so much from a payout yield perspective. And as we look at where the price per unit is and where that break-even point is relative to other opportunities for some of the capital projects that we've talked about today. But we're looking at it from a DCF per unit perspective. A DCF yield, let's call it that.
ET is currently expected to generate $2.46 in DCF per unit this year, bringing the current DCF to almost 25%. Although it is unlikely that he could find many growth projects that could generate such a high DCF relative to invested capital, it is important to consider this on a leverage-neutral basis given the management's top priority to pursue deleveraging. Once you factor in that management would have to pay down a lot of the low-yielding debt alongside buybacks to make buyouts neutral with growth projects, the math becomes much clearer as to why they favor growth projects at this stage. However, as leverage continues to decrease, these calculations may change.
Going forward, the downside risks to the ET investment thesis are increasingly mitigated, while the upside potential remains exceptionally high. As the chart below illustrates, ET remains the cheapest among investment-grade midstream companies:
| | | |
| --- | --- | --- |
| Intermediate company | EV/EBITDA (FWD) | EV/EBITDA (5 years) |
| HEY | 8.08x | 9.51x |
| PAA | 8.37x | 10.35x |
| DEP | 9.68x | 11.32x |
| MPLX | 9.60x | 9.33x |
| MMP | 11.08x | 12.57x |
| PAGP* | 10.98x | 9.96x |
| KMI* | 10.21x | 10.46x |
| IN B* | 12.89x | 12.71x |
| OK* | 12.15x | 12.69x |
| WMB | 10.96x | 10.79x |
Note: * indicates this is a C-Corp that issues a 1099 instead of an MLP that issues a K1 tax form.
If it returned to its 5-year average EV/EBITDA multiple and assuming an annual EBITDA rate of $12 billion, ET could see a ~55% increase in its unit price (~$15.5 per unit) in addition to its lucrative distribution yield. . As it continues to use its large retained cash flow in excess of distributions to pay down debt, that upside increases even more. Accordingly, annualized total returns of more than 25% over the half-decade are not unreasonable in a bullish scenario.
Key takeaway for investors
Between our recent conversation with the company, ET's steady cash flow generation, an increasingly secure investment grade credit rating, the stated intention to grow the distribution rapidly in the near term, and a significant discount to valuation relative to its history and peers, ET is now our strongest belief pick in the midspace.
If the unit price remains low in the coming months, we plan to allocate more capital here and expect this to help fuel the continued outperformance of our high yield investor portfolio relative to the broader market. :
| | |
| --- | --- |
| Index | Total return since inception (03/12/2020) |
| High Yield Investor Core Portfolio | 46.61% |
| Global X Super Dividend ETF (DIV) | 31.92% |
| S&P 500 (SPY) | 26.93% |